Posted on Nov 2, 2022
|
4 minutes read time
What is a vCIO and Why are They Important?
Knowing what is a vCIO and why businesses use them can save time, money, and resources.
When considering how the average salary for a Chief Information Officer is $169,968, it pays to go the extra mile and conduct research before hiring. Available to organizations at a fraction of the cost of a full-time CIO, there are many benefits of using virtual CIO services for businesses.
To learn more about what a vCIO is, what they do, the pros and cons, and why businesses use them, continue reading this blog.
What is a Virtual CIO?
A virtual Chief Information Officer, or vCIO, is a technology expert who provides CIO-level services and support to businesses on an outsourced basis.
What does a virtual CIO do?
vCIOs help businesses create and implement comprehensive technology strategies that align with their overall business goals and objectives. They also offer ongoing technical advice and serve as a trusted advisor for businesses navigating the constantly evolving technology landscape.
Additional responsibilities of a vCIO include:
Managing IT budgets
Implementing new technologies
Developing technology roadmaps
Staying up to date on industry trends and advancements
Overseeing security measures and compliance requirements
Can You Afford $4.35 Million in Data Breach Costs?
Average data breach costs have hit a 17-year high. Learn how businesses are protecting themselves from ransomware and data breaches today.
Why are vCIO Services Important?
In today's digital age, technology plays a vital role in the success of every type of business.
Working with a vCIO can provide the expertise and support needed to leverage technology effectively for increased efficiency, productivity, and profitability. They can also help businesses mitigate risks related to data security and compliance.
Additionally, many businesses choose to work with a vCIO to gain access to specialized knowledge and experience, as well as the ability to stay agile and adapt to changing needs.
To sum it up, a vCIO can offer valuable expertise and support in navigating today's complex technology landscape, helping businesses stay competitive and successful.
What are the Pros and Cons of vCIO Services?
Outsourcing executive-level CIO services with a vCIO can be a cost-effective solution for businesses, especially small to medium-sized companies that may not have the resources to hire a full-time CIO. To add, a vCIO also brings a unique outside perspective and can offer fresh ideas and solutions to businesses. Additional benefits of using a virtual CIO service include: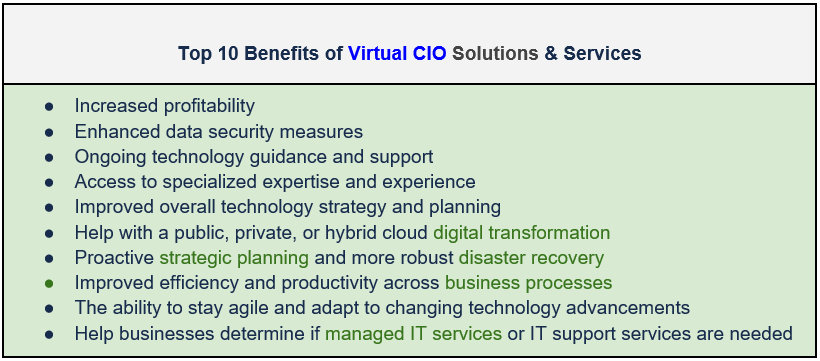 It is essential for businesses to carefully vet and choose the right vCIO provider, as they will have access to sensitive information and play a crucial role as a technology decision-maker. You also want to work with a partner who is the 'right fit' for your business and management team.
Why Do Businesses Need vCIO Services?
Outsourcing the role of the CIO is a cost-effective solution for businesses with limited resources or budget constraints. They also offer ongoing support and advice, while helping businesses stay ahead of the competition.
If your business is seeking expert guidance on creating and implementing a successful technology strategy, consider utilizing the services of a vCIO.
This cost-effective solution can have a significant impact on overall business success.
6 Important Factors to Consider With a vCIO
Not every IT consulting company is a good fit. To reduce the potential for turmoil, every business should ensure the following factors are considered and exercised:
Keep CIOs or vCIOs updated on any changes or developments
Regularly review the success and effectiveness of their contributions
Be sure to involve them in decision-making and strategic technology planning
Ensure they have a comprehensive understanding of business goals and objectives
Make sure to establish clear expectations and communication channels with the vCIO
For more relevant information, visit our related blogs on:
Gain a Dedicated Virtual CIO Today with Cloud9 Solutions
A virtual Chief Information Officer can provide invaluable support for businesses navigating today's technology-driven world. From developing comprehensive strategies to managing budgets and overseeing security measures, a vCIO can help businesses stay competitive and profitable in the long term.
Are you ready to see how a vCIO can benefit your business?
Contact us today to learn more about our virtual Chief Information Officer services.