Posted on Jul 22, 2022
|
5 minutes read time
How to Choose a Managed Services Provider in 2022
Knowing how to choose a managed services provider (MSP) can ensure your IT needs are met.
From improving your customer service and incident response with responsive remote helpdesk services to elevating your overall security posture with advanced cyber security and business continuity solutions, there are many factors to weigh. Among these include:
Managed Services Vendor Selection Criteria
The Most Important Questions to Ask an MSP
Knowing How to Choose Managed Security Services (MSSP)
To learn more about how to choose a managed service provider, this article will cover the technical questions to qualifying MSP companies to ask, the difference between an MSP and MSSP, and the top managed services factors to know.
How to Choose a Managed Services Provider: 5 Criteria to Examine
Organizations rely on managed services to better cover their IT needs, secure their sensitive data, processes, and uptime, and to reduce IT operating costs while improving their capabilities.
In fact, according to Statista, the primary outsourced managed services include computing and IT-related processes such as:
IT infrastructure
Cloud computing
Managed cybersecurity
While these benefits may attract most organizations, they aren't always needed. It is during these times that organizations must understand their current (and future) IT needs in order to fine-tune their managed services selection criteria to meet their needs.
Among the most important managed services provider criteria to consider include:
1. Customization
No two organizations have the same infrastructure needs, therefore, having a high degree of customization over the supported services and solutions you need is essential.
For example, small businesses may be seeking infrastructure management whereas medium-sized companies may be seeking co- or fully-managed IT services.
For large enterprises, it can be as simple as automating repetitive tasks, managing complex IT undertakings, like multi-cloud migrations and virtualizations, or streamlining compliance efforts.
So, ensuring your managed service provider has customizable services that can be built around the structure, demands, and budget of your organization is a top criterion.
2. Service Delivery
Downtime costs companies an average of $5,600 per minute. With so much more than uptime at stake, the service delivery model of an MSP can be the difference between your success and failure as a business.
For instance, the traditional break-fix model no longer suffices for most businesses that need 24/7 IT support.
In addition, you need to weigh whether you prefer a more hands-on or hands-off approach to infrastructure management. While remote support is a common go-to, it's also important to have localized on-site support should your business experience complex technology issues, natural disasters, or an infrastructure meltdown.
Discover How Businesses Stay Competitive With Managed IT Services
Find out why more businesses are turning to managed IT services to complement their internal staff.
3. Response Time
MSPs can drastically improve your response and resolution times, thereby protecting your:
Uptime
Productivity
Business continuity
From improving your ability to troubleshoot technical issues to ensuring your business gets back online quickly following an outage or data breach, MSPs and their response times must be considered for your business.
For instance, at Cloud9 Solutions, we average the following:
Up to 30 minutes to resolve critical issues
Up to 60 minutes to resolve high severity issues
Up to 2 business hours to resolve medium severity issues
Up to 4 business hours to resolve low severity issues
We also guarantee response times of one hour or less during business hours with time to resolution targets with measurable statistics.
4. Cost Reduction and Technology ROI
Business owners need to know how an MSP will cut their IT spending, save them resources, and ensure a sustainable infrastructure for the future. In addition to providing transparency for their service pricing, onboarding processes, and service add-ons, a good MSP will:
Improve your security operations
Create and deploy a proactive disaster recovery plan
Provide an incident response roadmap for expedited responses
Help you automate processes to ramp up efficiency and productivity
5. Scalability and Technology Future-Proofing
Finding an MSP that can upscale and downscale to your infrastructure and support needs will save you time, money, and resources.
Additionally, your MSP should possess a track record of future-proofing technology – cloud services, virtualizations, etc. – that can help your organization cut back on unnecessary expenses and duplicated technology costs in the future.
Managed Services vs. MSSP Services

MSP Offers

MSSP Services

Mostly focused on administration
Ensures your IT systems are optimal
Structured for usability, solving performance issues, and security
Ensures your data, systems, and processes are available and accessible to authorized parties

Mostly focused on IT security
Experts in aligning security with regulatory compliance frameworks
Safeguards the accessibility and user privileges of your information systems
Ensures your people and systems remain protected and compliant
As a business owner, knowing how to choose managed security services is important but if you're trying to balance security and support, then a managed service provider is the way to go as they cover many of the same security services of a good MSSP, such as:
Data protection
Rapid data backups
Compliance consulting
Disaster recovery services
Business continuity planning
Improved protection against cyber threats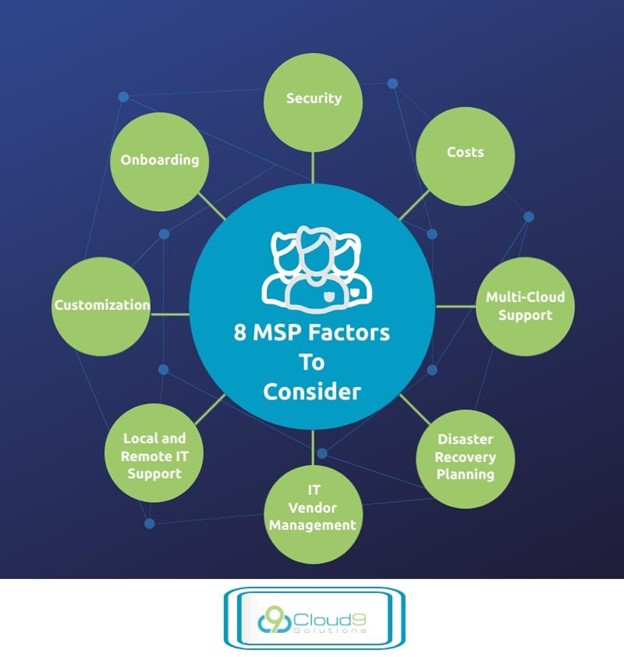 Top Questions to Ask an IT MSP
Knowing the right questions to ask during MSP discovery can better align your organization with a managed service provider that's suited to your needs. In addition to weighing the criteria shared above, the most important MSP qualifying questions that to be answered include:
How do your services provide an ROI?
What expertise do you have in our industry?
What is included in your service level agreements?
Can your managed services scale with my business?
How long is the onboarding and implementation process?
What security, backup, and disaster recovery services do you support?
Interested in learning more about managed services? Check out these blogs:
Cover All of Your IT Needs With Our Managed Services Provider
Addressing the needs of your business is easier with a trustworthy MSP in your corner.
As a leading provider of managed services and managed security services in Vancouver, Cloud9 Solutions understands what it takes to ensure your organization gets the support and security it needs.
That's why with our managed services, you don't just gain a trusted technology partner. You also benefit from our:
Free server restoration
Free break-fix services
24/7 monitoring, support, and security
20+ industry-leading vendor partnerships
Guaranteed 30 minute or less response times for critical IT issues
Expert IT consulting that influences educated technology decisions
It's time you addressed the needs of your organization today to secure a better tomorrow. To learn more about what our managed IT services can do for you, contact us today.