Benefits of using Microsoft Office365 for SME's
August 20, 2020
Features and Benefits of using Microsoft Office365 for a Business.
For those that don't know, Microsoft Office365 is a cloud-based version of Microsoft Office applications (Word, Excel, PowerPoint, OneNote, Outlook, Publisher, Access and many more) suited for small to medium enterprise (SME) market with a wide range of advantages that can increase overall productivity and profitability. For the seasoned Microsoft Office user, nothing has changed in Office365, only the user experience, and this has been enhanced by adding awesome, intuitive functionality.
You can see from the following image that office365 provides better, updated functionalities that are much more inclusive with each other to provide a better, seamless, mobile solution allowing for access anytime on any device and highly secure.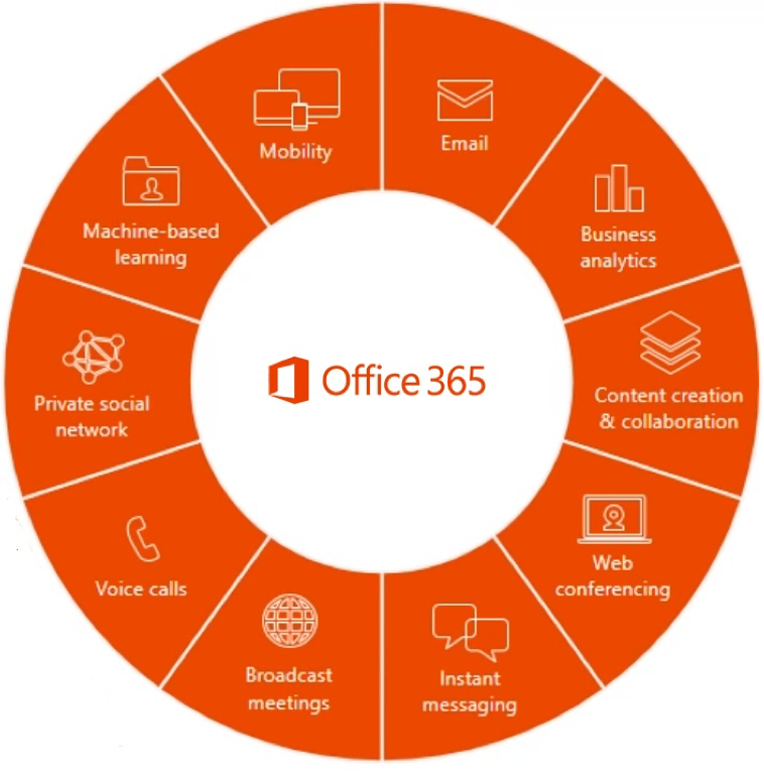 According to Cloud Adoption 2018 Warreport by Bitglass, Office365 adoption rate has surged to 56% in 2018 from 34% in 2014, while its main competitor Google Suite's adoption rate remains constant at 25%. There are 135M monthly active commercial Office365 users.
Here are some cool features of Office365 that have changed the mode for SME's business technology.
Office365 is powered by many of Microsoft Artificial Intelligence (AI) features to enhance operational efficiency. Microsoft Office IDEAS, gives you ideas while you create documents in Office applications. This feature makes creating Office documents easier, offering ideas and design tweaks to things like presentations which should speed up the creation of documents. Microsoft's intelligent assistant Cortana gets better when connected to Office 365. Cortana helps your employees be more prepared by pulling together insights like recognizing how people in your office are connected to each other, and what documents are being shared among them.
With Office365 you have your office with you everywhere. You can easily access your files, not only from office but from home, and while you are traveling. Office365 is your complete office in the cloud.
With Office365 every user will always have the same latest version of all office products whether it's Word, Excel, PowerPoint, Outlook or any other office application. There will be no more different versions of office applications running in the same office and you don't need to perform any manual upgrade.
Office365 supports Apple (MAC computer, iOS mobile device), Google Android and all windows devices. You can experience the same functions on tablets, Smartphone's, and computers.
By being hosted in the cloud, Office365 is adding a new dimension to high data availability. You can access your apps and content anytime, anywhere. Microsoft has Geo-Redundant data centers located in North America, Europe, Asia & Australia to provide optimal performance with 99.9% guaranteed uptime.
There is IT-level support dedicated for Office365. You can get 24x7 support via phone or online.
Here are some benefits that Office365 offers to SME's:
Better Team Collaboration
Office365 makes working together easier. The Co-Authoring feature allows you to edit, save and share documents virtually from anywhere whether you are at the office, home, or across the globe. You and your team will always stay in the loop. Everyone can add their content and edit documents (Word doc, PowerPoint slides etc..) together at the same time and see who is doing what. You can use @mentions to get someone's attention.
See how the University of Nottingham is using Office365 for collaborating on group projects.
Increase User Productivity
The intent of Office365 is to make users more productive. With Office365 you get the latest tools for productivity - delivered fast, with smooth upgrades. Office 365 includes a user based model with multiple device downloads (tablets, smartphones and PCs). Mobile and cross-platform edition make Office365 compatible with different devices and operating system. Settings are synchronized across devices and you get automated updates. Microsoft also includes 1 TB of OneDrive storage for each user with Office 365. All this is done so you can focus on crucial things that matter most to your business growth.
The vast majority of people are already familiar with Office, Excel, Exchange, and other programs in the Office suite which decreases the learning curve that comes with transitioning to Office 365.
Security and Peace of Mind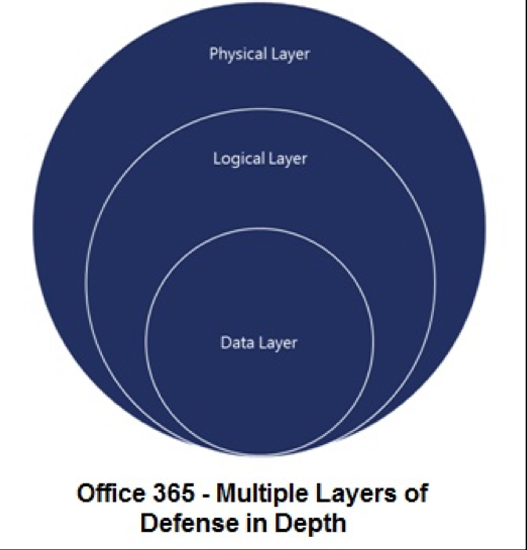 Managed Security is no more an afterthought for businesses in today's always-open global economy. Security becomes a serious concern when moving your organization to cloud services.
Microsoft is currently recognized as an industry leader in cloud security. In Office365, a defense-in-depth strategy has been deployed at the service level that protects user data through multiple layers of security (physical, logical and data).
Anti-malware software in Office365 detects and prevents the introduction of computer viruses and worms into the Office365 ecosystem.
No Downtime
There is dire need of keeping data available without interruption to maintain customer confidence and brand reputation. According to a study by British Chambers of Commerce that covered companies who suffered the loss of data longer than 10 days:
50% went out of business momentarily
93% went out of business within 1 year from the incident
Microsoft data centres are located all over the world, creating a healthy dose of redundancy. This distributed data storage facility ensures that your documents are safe and always available regardless of any physical or cyber disaster.
Reduce Your Business Costs
A traditional IT setup would typically incur the following costs:
Monthly / Annual – hardware and software maintenance, electricity for powering and cooling servers, floor space, storage of off-site backup
Every 3-5 years – capital costs of replacing all the server hardware and software and the services bill to do so, capital costs of buying the latest version of Office (Word, Excel, PowerPoint etc.);
In addition to the direct financial costs, there is of course all the time that the IT team have to spend on keeping all the systems available, performing well and secure.
With Office 365 all these day to day productivity capabilities are charged on a per user, per month basis. The service scales directly with your business so that you only pay for what your business needs.
As your business grows or shrinks, so does your monthly cost.
Once you've moved your productivity IT into the cloud with Office 365, then you may well want to start migrating some or all of your remaining, on-premise systems, and servers into the cloud. Have one monthly Op-Ex cost without any termination fees and pay for only what you use.
At Cloud9 Solutions we form long-term partnerships with our clients and when assisting with your Office 365 requirements we strive to ensure that your business confidently adapts to working in the cloud. Our team will make sure that your existing infrastructure is healthy enough to support Office 365 before a migration process is decided and once Office 365 has been fully integrated we work with you closely to ensure that your investment is maximized and producing results. For more information please book a free consultation today!